October 5th, 2012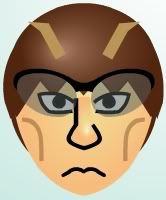 Before anything else, This looks better on the Wii than on that Mii creater on this site I had to use to make this picture.
The most intense racer out there!
TUTORIAL!
Color: Purple
Height: about 90%, hes tall
Size: about 45%, he ain't fat.
(Page #, Column #, Row #)
Head: 1,1,1
Facial Features: 1,3,2
Hair: 2, 3, 1, Red
Eye Brows: 1,3,1, Blonde, Rotate up all the way then rotate down twice, 2 sizes bigger, apart once.
Eyes: 3,3,2, One size bigger, together once.
Nose: 1,2,2, bigger twice, up three times.
Mouth: 1,3,3.
Others: Clean Shave, No Dot, Glasses 1,3,3, black, bigger once, up once.
If it didn't come out right then the little editer isn't as accurate, it is the beta though so I don't mind (If it was the final I'd be like whoa).
Hope ya'll like it.