Friday, January 28th, 2011
Hermione Granger from Harry Potter is a bossy, intelligent, ambitious, muggle-born witch. Not especially attractive, she has two large front teeth (though these get reduced in size by Madame Pompfrey after an incident with Draco Malfoy in Goblet of Fire). She is best friends with Harry and Ron. In the Harry Potter films, Hermione is played by the (very attractive) actress Emma Watson.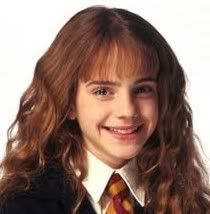 Hermione is depicted with a stern look, but if you rotate the eyebrows down (clockwise) twice, and move them up twice, you will have a good dispariging expression.
GUIDE
Nickname: Hermione G
Shirt Colour: Red
Birthday: 19th September
Body: Female
- Height: 65%
- Size: 35%
Head: Default (Row 1, Column 1)
- Colour: Default (White - Row 1, Column 1)
Facial Characteristics: None
Hair: Page 6, Row 3, Column 3
- Colour: Blonde/Brown (Row 2, Column 3)
- Flip: -
Eyebrows: Page 1, Row 2, Column 2
- Rotate: Down 3
- Position: -
- Apart or Together: -
- Colour: Light Brown (Row 2, Column 2)
- Size: -
Eyes: Page 1, Row 4, Column 2
- Rotate: Down 1
- Position: -
- Apart or Together: -
- Colour: Brown (Row 1 Column 2)
- Size: Smaller 1
Nose: Default (Row 1, Column 1)
- Position:
- Size:
Mouth: Page 1, Row 1, Column 2
- Position: -
- Colour: -
- Size: Smaller 1